Assoc. Prof. Dr. Ngo Viet Liem
Marketing in Platform Ecosystems: Secrets inside
Abstract: The phenomenal rise of platform ecosystems has transformed competition, defined new markets, drawn together a network of buyers, suppliers, and complementors, and created a new breed of start-up entrepreneurs. This paper complements prior research focusing on how marketing enables start-up entrepreneurs to generate and bring new business ideas to life, and scale businesses at incredible speed. This paper also brings into focus the psychological well-being of start-up entrepreneurs.
Short bio:
Liem Viet Ngo (Ph.D., University of Newcastle) is Associate Professor of Marketing at UNSW Business School, University of New South Wales, Sydney, Australia. He is Editor-in-Chief of Australasian Marketing Journal. His research has appeared in Journal of Product Innovation Management, British Journal of Management, Industrial Marketing Management, European Journal of Marketing, Long Range Planning, Journal of Services Marketing, Journal of Retailing & Consumer Services, Psychology & Marketing, Journal of Business Research, Journal of Marketing Management, Journal of Brand Management, Australasian Marketing Journal, Journal of Business and Industrial Marketing, among others. He is leading several research projects focusing on emerging research areas: customer management (e.g. mindfulness, empathy, collective behavior), innovations in business models, and entrepreneurship in emerging economies.
He currently serves on the Editorial Review Board of Industrial Marketing Management, Asia Pacific Journal of Marketing & Logistics, and Journal of Asian Business and Economic Studies. At UNSW Sydney, he served as Research Coordinator, Postgraduate Research Coordinator, and Postgraduate Coursework Coordinator. He has taught postgraduate and undergraduate courses at UNSW Business School including brand management, digital marketing, and advertising. He is currently a Member of the Advisory Board of Relationship Marketing for Impact, Griffith University. In 2018, he received an Honorary Doctor of Economics from the University of Economics – Ho Chi Minh City.
His research contribution is recognized by 2008 Highly Commended Award Winner of Emerald/EFMD Outstanding Doctoral Research, the 2011 Non-professorial Research Achievement Award from UNSW Business School, Best Paper in Services Marketing and Marketing Strategy Track – ANZMAC 2015, Sydney, Best Paper Nominee in 2017 AMA Global Marketing SIG Conference. He has served as an assessor for the Australian Research Council (Discovery and Linkage Projects) since 2013. In 2010, he was part of a team that won an ARC Discovery Grant of $145,000.
Prof. Dr. Carsten Baumgarth
New Wave of Brand Management: Strategy, Tactics, and Tools
Abstract: Brands are one of the most valuable assets of companies, cities, universities, etc. In the past, brand management was based on some simple "brand laws". However, disruptive technologies (e.g., AI, Social Media, VR, robotics), increased competition (e.g., start-ups vs. companies, new international competitors), dramatic changes in consumer and employee behavior (e.g., sustainability, New Work movement) and instability of political and economic systems (e.g., trade wars, new political parties, and leaders) challenge these brand laws. The keynote speech will firstly discuss the new challenges for brand management. On this basis, the keynote will present "The New Brand Movement Manifesto", which summarizes the main changes for brand management. Finally, the keynote will discuss five selected current issues of brand management in detail: (1) data literacy, (2) new technologies for the measurement of customer journeys and brand touchpoints, (3) brands with a conscious, (4) brand leveraging and (5) brand co-creation.
Short bio:
Since 2010 Carsten Baumgarth has been a Full Professor of Marketing and Brand Management at the Berlin School of Economics and Law (Germany). He has published around 400 papers and books with a focus on brand management, B2B marketing, sustainable marketing, arts marketing, and empirical methods. His work has been published in Industrial Marketing Management, Journal of Business Research, European Journal of Marketing, Journal of Product & Brand Management, Journal of Brand Management, and International Journal of Arts Management among others. He has won more than ten best paper awards. In 2012, he founded together with colleagues the Institute for Sustainability (http://institut-ina.de) in Berlin. Together with three colleagues, he founded the expert council technology brands in 2015 (http://technologiemarken.de). He is Adjunct Professor at Ho Chi Minh City Open University (Vietnam).
Prof. Dr. Wim Vanhaverbeke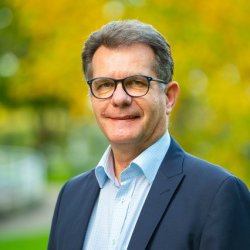 Wim Vanhaverbekeis Professor Digital Innovation and Entrepreneurship at the Surrey Business School (UK) and is visiting professor at ESADE Business School and till recently also at the National University of Singapore. He published in different international journals such as Organization Science, Research Policy, Journal of Product Innovation Management, California Management Review, Journal of Management, Journal of Management Studies, Small Business Economics, Journal of Business Venturing, Technovation, etc. He was co-editor with Henry Chesbrough and Joel West of "Open Innovation: Researching a New Paradigm" (OUP, 2006) and "New frontiers in open innovation" (OUP, 2014). He published a management book "Managing open innovation in SMEs"  (CUP – 2017) and an academic volume "Researching open innovation in SMEs" (World Scientific Press – 2018).
He is a dedicated open innovation and innovation ecosystem researcher collaborating with different partners around the globe. His current research focuses​​ on ​the implications of ​​digital strategies​ and sustainability requirements for the management of innovation ecosystems. He established the European Innovation Forum with Henry Chesbrough in 2012 and is co-organizer of the World Open Innovation Conference 2016. He is a frequently asked speaker at leading international conferences and an adviser for several globally operating companies. He consults and organizes workshops for multinationals and technology companies.
He was recognized by the International Association of Management of Technology (IAMOT) as one of the top 50 authors of technology and innovation management during the period 2008-2012. He was appointed as a member of the Advisory Committee of the Research Center for Technological Innovation of the Tsinghua University from April 2018 till March 2021.
Dr. Ducksu Seo
Dr. Ducksu Seo is a professor of urban design and planning fields at Handong Global University in South Korea. He is also an urbanist leading several international urban projects and housing studies. Particularly he enjoys trips abroad and working with global partners to lead the paradigm of sustainable smart cities into emerging world cities.
Source: http://icb2021.ou.edu.vn/pages/view/11-keynote-speaker